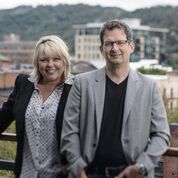 Broker-owner REALTOR | Buncombe County WNC Mountain Realty
About Kelly
Kelly Erin-Spinney's fearless adrenaline initiated her career as a Stuntwoman for film and television, climbing the ranks to managing multi-million dollar production budgets and logistics as a successful Producer and Assistant to 2nd Unit Director with far too many credits to list. Originally raised in New York, New Jersey, and Florida, Kelly moved from Miami to Los Angeles, where she supervised spectacular projects and ran her husband's busy film business, as well. Her speedy assimilation to ever-changing locations and conditions is only one of the many talents she brings to her clients at Keller Williams Professionals. Her coast-to-coast network facilitates transactions in Asheville and abroad with inexhaustible energy and attention to detail.
Kelly comes from a family of real estate developers and has been a licensed realtor since 2009. She carries a full combined kit of resources, professions, experiences and locales along with an architect's keen mind and designer's eye for detail. Kelly has the perfect DNA for a successful realtor, easily navigating the transition from home-seeker to property investor, equally comfortable with selling or seeking a Mid-Century ranch or sharing the design vision for a fixer-upper.
Kelly met husband, Chett Spinney while both were working in the film industry. Chett is a successful business owner in Asheville. Their daughter, Chandler, is at NC State, studying International Political Science and Chinese. Their family left their hectic life in Los Angeles for a move to Asheville in 2007 and has never looked back!